---
Každé zvířátko si může projít nějakou tou nemocí. Snažte se jim proto dávat co nejvíce vitamínů (hlavně ovoce), minerálů (fosfor a vápník) a dopřejte jim dostatek pohybu. Zde uvedu příklady nejčastějších nemocí. Většinu jsem se dočetla z knih a z internetu, protože moje Nessie si prodělala zatím jen svrab a alergii (zaplať pánbůh).
Každý den při hře byste měli zkontrolovat oči, packy, ocásek a srst. Nemoci se nejčastěji projevují špinavým řitním otvorem nebo průjmem (ne ten co mají na začátku, když si je přinesete domů – to je jen stres, ale opatrnost je na místě), červeným výtokem kolem očí a nosu (vypadá to jako okysličená krev a potkani to mají na obranu, když se probudí, tak ho bude mít vždycky v malém množství, jenom pokud si to neumyje, může to být projev nemoci), otupělostí, žízní nebo nechutí jíst. Dále také línající srstní nebo různými boláky. V takových případech okamžitě vyhledejte veterináře!!! Tento text neslouží jako náhrada za odbornou pomoc, nýbrž jenom pro orientaci.
Svrab (a jiní parazité)
Asi opravdu nejčastější "nemoc" (spolu s jinými breberkami jako např. blešky). Potkani si jí nejčastěji nosí ze zverimexu, kde jsou zvířátka natěsno u sebe, nebo ze špatné většinou levné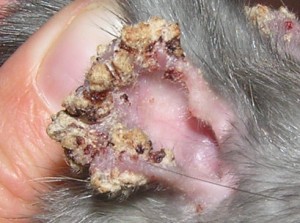 podestýlky nebo sena. Má stejné projevy jako "potkaní bradavice) a ani veterinář je nemusí od sebe rozpoznat (proto vždy preventivně zahajte léčbu popsanou níže, potkanovi to nijak neublíží). Nejčastěji trpí potkánci ušním svrabem. Projevuje se malými bílo-hnědo-zelenými bouličkami na uších (možno i na ocásku a tlapkách), které si nejčastěji rozškrábou někdy až do krve. Jakmile si něčeho takového všimnete, dejte zvířátko do karantény (pokud máte více potkánků, nesmí být s nimi), vyměňte podestýlku (nejlépe za nějakou hypoalergenní – např. kukuřičnou) a vymyjte klec. Pokud jich máte více, kontrolujte je denně, protože je velká pravděpodobnost, že to budou mít taky. Pokud ano opakujte celý proces znovu, jinak se toho nikdy nezbavíte (druhý nakažený potkan by neměl být s tím prvním). Naštěstí pokud včas odhalíte nákazu a zamezíte její šíření (což je dosti těžké pokud jich máte více), tak léčba trvá jen 7 až 10 dní a není vůbec nákladná. Můžete jít za veterinářem, který jim kápne antiparazitikum mezi lopatky (pokud je svrab v pokročilém stádiu, je třeba injekce, která však velmi zatěžuje imunitní systém – proto to nenechte zajít tak daleko) nebo si koupíte sprej (např. Arpalit) a vatovou tyčinkou (nejlépe však dvěma prsty) mu ho vmasírujete do napadených míst. Důležité je, aby obsahoval látku permethrin (mimochodem se tato látka nachází i v lidských sprejích proti klíšťatům a z vlastní zkušenosti vím, že se dá použít i toto). Nikdy však nestříkejte sprejem přímo na potkánka. Mohli byste trefit očička a potkani se většinou i tohoto zvuku bojí. Neléčený svrab může vést k nekróze (odumření) uší a v nejhorším případě i k úmrtí zvířátka.
Další formou je kožní svrab, který není tak obvyklý. Projevuje se holými místy na kůži s červenou tečkou uprostřed. Léčí se mastmi, které vám dá veterinář (fungují i lidské, ale ty jsou jen na předpis).
POTKANÍ SVRAB NENÍ PŘENOSNÝ NA LIDI a to ani kdybyste ho olizovali a nevím co ještě. Proto je nesmysl se zvířátka štítit a zanedbat tak jeho léčbu.
Obezita a cukrovka
Tyto dvě nemoci jdou většinou ruku v ruce. Častěji jimi trpí samci, protože jsou línější. Pokud nedopřejete potkánk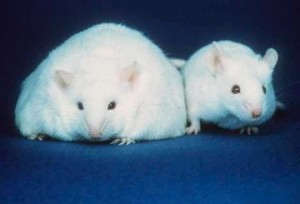 ovi dostatek pohybu a budete ho krmit špekem, za pár měsíců z něj budete mít kočku (obrazně myšlena velikost). Minimální váha je 300g – většinou samice o moc víc mít nebudou – a té by měl dosáhnout každý potkánek. Maximální váha je 900g – většinou jí dosahují dominantní samci – ale to už je opravdu maximum a je lepší ubrat. Ideálně by se to mělo pohybovat kolem půl kila (záleží na jedinci). Obézní jedinci mají stejné problémy jako lidé – bolesti kloubů, špatné dýchání, cukrovka – a při zanedbání následuje smrt. Na rozdíl od lidí si za to potkani nemohou sami – vždy za to můžete vy! Na tohle ovšem žádné prášky ani liposukce neexistuje. Nejúčinnější je dieta a pohyb. Chce to ovšem aktivitu od vás. Dávejte jim menší dávky jídla a nuťte je při tom k pohybu (např. pomocí závěsné koule viz.klec a vybavení). Nedávejte jim jídlo "zadarmo" do misky. Potkan by si měl pro jídlo například někam vylézt (pozor však na pády).
Cukrovka není u potkanů moc běžná (většinou je to důsledek obezity). Projevuje se žíznivostí (nestačí mu jedno pitítko denně) a nechutí k jídlu. Potkan rychle hubne, nechce se hýbat, začínají mu padat chlupy. Okamžitě navštivte veterináře! Nenechte se ovšem přesvědčit, že léčba je nemožná. Léčba existuje, i když je nákladná a pravděpodobně bude trvat zbytek života. Stejně jako u lidí i potkanům zabírá inzulin (ve velkých dávkách ovšem) a přísná dieta. Já s cukrovkou zkušenosti nemám, ale určitě se dá najít přesný postup léčby. Pokud takový objevíte, dejte mi prosím adresu nebo mi napište název knihy. Budu vám moc vděčná.
Bouličky
Výskyt bouliček může být zapříčiněn mnoha věcmi. Může se jednat o nádory, spolknutý předmět, nebo pupeční kýla. Těžko říct. Avšak nikdy nic takového neignorujte a okamžitě vyhledejte veterináře!
Otlaky
Bývají zapříčiněný špatným vybavením klece např. patra z pletiva. Tyto otlaky se nejdříve projevují otoky a bouličkami na nohou a mohou přejít i do zkrvavených puchýřů. V takovém případě okamžitě odstraňte zdroj a ránu vydezinfikujte (něčím šetrným). Návštěva veterináře není od věci.
Drobná zranění
I kdyby jste se snažili sebevíc, těžko jím zabráníte. Stříhnutí do prstu při stříhání drápků, škrábnutí, naražení nebo zlomenina se může přihodit každému. Pokud jde jen o DROBNÉ poranění např. škrábnutí, stačí dezinfekce a omezení pohybu než se ranka zahojí (také byste měli vymýt klec kvůli možnosti infekce). Pokud jde o vážnější problémy – naraženina, zlomenina nebo pokud se potkánek na něco napíchne (v takovém případě nikdy předmět nevytahujte!!!) okamžitě navštivte veterináře (je dobré mít na nějakého ochotného číslo na mobil).
Zde přidávám odkaz na stránky, ve kterch najdete spoustu nemocí i s obrázky.
potkanileky.webnode.cz/o-webu/
Komentáře
Přehled komentářů
---
---